A LITTLE ABOUT INLAY ART
The term "tarsia" (commonly known as INTARSIO) comes from the arabic "tarsi" (preciouos decoration or incrustation) and was given to the first Carthusian works whose ornamental motives were inspired by Moslem marble inlay.
Woodework using this tecnique has always had a particular charm, due olso to the effect of the warm soft matching colours which usually characterize this form of art.
Inlay is the art of surrounding in each part a drawing with fretwork using various types of fine wooden leaves. All finished drawings are composed of little pieces,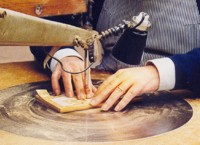 first pierced and then reassembled by skilful hand of the artisan that can't be substituted by any machine.
Different shades are obtained using hot sand and, if necessary, engraving are made with China ink.
Valuable woods such us elm root, walnut, poplar, rosewood and ebony, are used; the natural "erable" and colour must be selected with much care in order to obtain the desired polychrome effect. The finishing touch is made dy smoothing the pieces and applying a shiny or mat polyester used to preserve the inlay and give opacity or brightness.
Over the years this form of woodwork has been applied more and more widely. It can de found in furniture, pictures and even in holy panels as big as walls.
In this field, the Sorrento artisans were the teachers; in fact their art and fame quickly spread everywhere, even to America.
With time even the production of boxes became refined and elegant and with the application of a musical mechanism, artisans created exclusive carillons, that made people believe that they came from a magical world.