© 2012 Calemma
L'INTARSIO SORRENTINO
dal 1910
INLAID WOOD WORKSHOP
since 1910

Michele Calemma has been a craftsman since he was born as he is the grandson of Eugenio,

master of inlaid wood works. Michele has followed the footsteps of his grandfather attending his

grandfather's shop from the age of seven.

The passion for craft of Calemma family, passed from father to son, inspired to high quality

creations. Talent is combined with innovation in constant search of new trends. Continuous

improvements make these items even more exclusive and original.
The quality of the materials chosen, the manual and artistic skills of Michele together with

traditional methods have a key role in the whole artisanal process.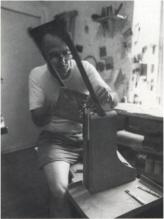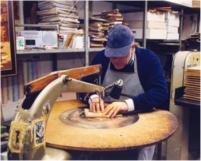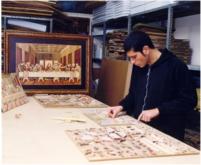 All his works suit classical and modern taste.
The tradition of arts and crafts of Master Michele

Calemma's work continue thanks to the passion and

dedication of his son Nello, who follows personally the

production of the objects carved in the workshop in 13 Via

San Vincenzo Strettola.

Michele Calemma
Nello Calemma, son of Michele
Grandfather
The exhibition and sale of the inlaid works is in 4 Via

Santa Maria delle Grazie in the historical centre of

Sorrento.

Historical Background of inlaid wood work of Sorrento

The inlaid wood items are a decorative work performed by cutting, layering and pasting

together various sheets of woods, with chiaroscuro effects obtained by the different colours

of veneer. Each inlaid item is unique which increases its value over time.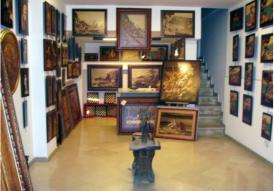 These wooden handicrafts have always

possessed a special charm due to the

combination of warm and delicate

colours that characterize these artistic

creations.
All decorations are made of hundreds of small pieces, finely cut first and then

reassembled by the skilful hand of the craftsman. This skill and technique

cannot be replaced by any machine. The shades are made by various hot

sand baths and, where needed, with details hand finished with ink. The raw

material used is a careful selection of precious woods such as elm, walnut,

poplar, rosewood, ebony, natural and stained Maple, in order to obtain the

desired polychrome effect.

The exhibition in Via S.M. delle Grazie, 4 - Sorrento